Vision for Learning Grants
We are not currently accepting applications please check back in Spring 2021
The Alpine School District Foundation offers schools and departments the opportunity to apply for grants to support innovative programs or projects that promote deep content knowledge and the six C's: Collaboration, Communication, Creativity, Critical Thinking, Citizenship, & Character.
Up to $5,000* may be granted and may be used for resource materials, supplies, equipment, transportation, software or technology.
All grant requests should describe the need for the project funding and details of the project, including how it will help the teacher/team to create effective curriculum that engages students and promotes deep content knowledge.
Applicants need to include a list of the materials needed and the cost for each item.
*Details to qualify are included in the instructions below.
Purpose: The Alpine School District Foundation offers schools and departments the opportunity to apply for Vision for Learning Grants. VFL Grants are designed to encourage, facilitate, recognize, and reward innovative and creative instructional programs and ideas that promote high levels of student learning and academic success and align with District goals and objectives.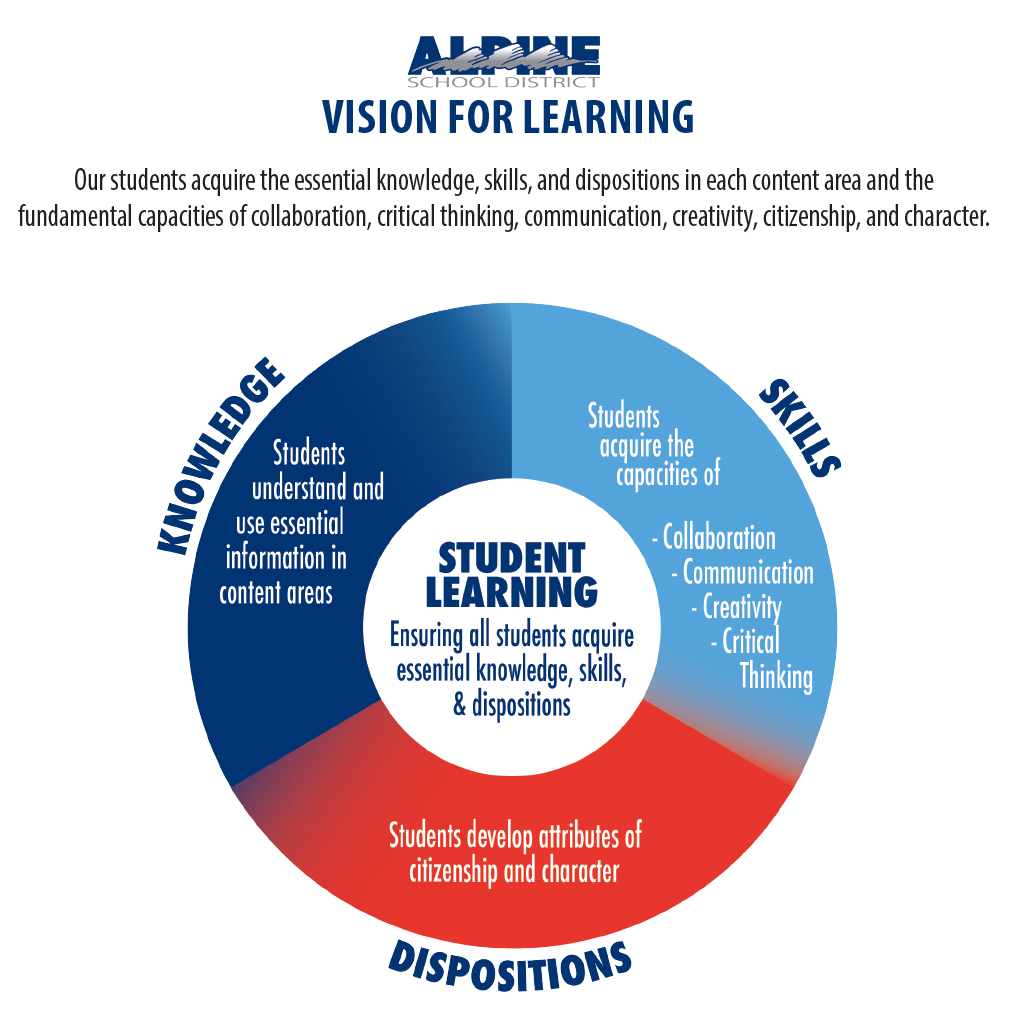 Important things to know:
Grant applications are open Spring 2021.
Grants awards will be made beginning in June 2021 and will continue as long as funds are available.
Please read ALL the information below and following each step. Failure to do so will affect grant consideration.
Application Requirments
Eligibility:
Applicants must be currently employed Alpine School District teachers or administrators who are actively involved in the instruction of students or related support services.
Identical applications from schools or departments will not be considered.
Applications that include activities scheduled prior to the date of notification will not be considered. 
Applications missing information including lead applicant data will not be considered.
Applications must correspond with District policies, including appropriate use of supported technology and support from school and district administrators with oversight for the educators and programs involved.
Application Requirements:
The application narrative must include the following:

A short description of the project.

Description of the goals for student achievement and the evaluation tools and strategies for the project.

Description of the student need for the project.

Identification of any community partnerships that this project will help to establish or strengthen.

A detailed line-item budget for the proposed work including descriptions of how expenditures will affect outcomes.

Explicit identification of any matching funds for the project.




Matching Funds
Matching Funds: Grant requests of up to $999 will be considered with or without matching partner(s).
Grant requests between $1,000 to $5,000 will be considered ONLY if a matching partner is included.
The matching partner could be School Land Trust funds, private donations by parents or business partners, PTA funds, personal contributions, other grants, etc. The ratio between the grant and the match may vary and will likely be part of the grant consideration.
The review committee will consider individual circumstances in assessing the proposed ratio between the VFL Grant requested and the available matching funds.
Please note that all contributions relating to the overall project are expected to go through the Alpine School District Foundation.
Grant Amounts: Up to $5,000
Eligible Expense
VFL Grant funds may be used for resource materials, supplies, equipment, transportation, software, or technology.
Restrictions: VFL Grant funds may not be used to:
fund projects that are already provided for in school or district budgets
fund food, rewards or incentives
pay indirect costs, grant administration fees or salaries
fund teacher training or travel
pay stipends to the applicants
purchase materials or technology that is not supported by the Alpine School District
or promote or engage in any activity that would not be acceptable in a public school setting
Application Criteria
Selection Criteria:
Proposed goals for student achievement are challenging and rigorous.
Proposed work engages students in critical thinking and problem solving.
There is alignment between goals, assessment, activities, and budget.
The degree to which the grant supports the Vision for Learning, District goals, a School Improvement Plan and/or specific quantifiable student learning needs as identified through individual school or district data.
The degree to which sound evaluation procedures are incorporated in the proposal.
The degree to which the proposed grant request represents a creative or innovative approach to the accomplishment of objectives.

NOTE: Funds are not typically available for recurring programs/projects. The proposal should address a new project as opposed to one accomplished or under way.
The degree to which the proposal is clear and logical, based on (a) specificity of objectives; (b) clarity of description of instructional procedures, methods, or treatments; and (c) relevance of evaluative procedures as related to objectives and treatments
Application Process
Process:
Applications must be reviewed and supported by direct administrators.
Applications must be submitted electronically to the Foundation within the posted application window.
Awarded projects are to be fully implemented during the upcoming school year.
Recipients must complete a project evaluation and submit all paperwork to the Foundation office.
Administrator is required to submit a support statement via email to Tyler Vigue at [email protected] prior to review and approval of grant.
Inquiries:
Direct all questions to Alpine School District Foundation Director, Tyler Vigue at [email protected] or 801-610-8425.
Application Form
We are not currently accepting applications, please check back Spring 2021